PEVERELIST: "ERSTWHILE RHYTHM"/"THE GRIND"
Big up Tom from
Rooted Records
for slipping me a pre-release CD of this a few weeks ago: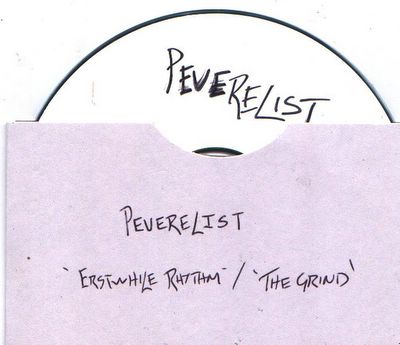 Apologies for my apparent slackness in covering this, but childcare, illness and a long weekend away at Minehead all conspired to chop away at my (already limited) free time.
As well being one of the nicest blokes on the planet and running Bristol's finest Dub/Alt.Electronic Dance vendor, Tom also somehow finds time to DJ and record tunes as
Peverelist
. These tracks are, I believe, due to appear as a twelve in the new year on Rooted's own
Punch Drunk
label, as a follow-up to
Monkeysteak
's "
Lighthouse Dub
" (which came complete w/ a retwist by
Pinch
. Great to see that
Nick's down w/ Peverelist's shit too
.
"
Erstwhile Rhythm
" grafts the syncopated, clipped beats of Dubstep/UK Urban Bass onto a quasi-4x4 chassis: Tom opts here for spacious atmospherics and a vague sense of unease, as if something is lurking in the corner of your eye, just out of sight, rather than creating a full-on Halfstep macho growler favoured by some producers...and his strategy pays off: this sounds dreamy and creamy; it
nags
at your imagination rather than tugs, with the rhythmic pulse suggesting a twilight journey or an internal narrative of some sort... kudos to Tom for resisting the path of least resistance and creating something that feels more in sync with the likes of, for example,
Benga
, but less darker...respite the lack of obvious rollage, I'm def. getting an early Jungle feel from this (I think Tom's own roots lay in the Drum n Bass scene)...
"
The Grind
" is nowhere near as unpleasant as the title suggests, with it perhaps referring to something
sexual
rather than industrial...ratcheting percussion pingpongs around inside the intro, chased by vague synthetic emissions like a zero-gee game of squash. The beats build, again forming a clicky, 4x4-ish Minimal Techno styled framewerk, from wh/ Tom hangs tiny loops of dubby syncopation: this is Dubstep stripped of Bloodclaat clutter and sanded back to a lithe, lean
younger
version of itself, a slinky, wireframe variant that's built for speed and agility; this is slick n sexy and will get all the girls up and dancing, but the skunkheads'll still be nodding at the back while they build a spliff...(and this is) Dubstep colliding w/ the sound of Frankfurt and Barcelona; rubbing up against it in a darkened corner, getting hot and hard and liking what it finds: 7 minutes of abstract blissss////so fabulous, I think, that this tune came out of Bristol, not Leeds or fucking London. I'd love to hear a version of this w/ some
strings
(and some pitched-up vox), but what the hootin' heck do I know.
Reco-fucking-mended.