MIRROR/DASH - "I CAN'T BE BOUGHT"
Anyway, so
Cloudboy
and I were checking out
Thoughtforms
a
couple weeks back
and there was a particular point where the frequencies started to rub against each other creating a sort of microtonal cascade of harmonics and I thought to myself,
hmmm, yeeeeeah, sounds kinda like Sonic Youth...
At that exact second CB turned and whispered excitedly: "Wow. Does this remind you a bit of Sonic Youth?" There was a particular quality to the sound wh/ we both agreed could be described as 'chiming'...
Well, plennnny of
chiming
goin' on here, on "
I Can't Be Bought
" a live freak-out by Kim and Thurston from SY. Notes ring against each other; guitars howl and collapse in waterfall-like shards of noizzzze; Kim moans like an old ghost locked under the floorboards while Thurston seemingly dismantles his pick-ups from the inside-outwards and at one point it sounds like a motorcade of police-cars driving past at high speed: in otherwards,
the usual
....and v. pleasing to the ears it is too. It's spooky, sexy, smart, skronky; each in turn.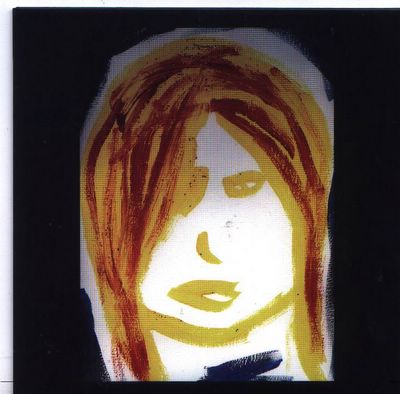 And, speaking of SY, I'm off to
this
in a couple hours. Accompanied by one of the biggest collections of Yeovil-centric freaks assembled in a while:
Farmer Glitch
,
Bren-W
,
Flinty
,
Spike
,
Shaggy
and
Lurch
(well, okay, he's a London boy these days, but I've seen him covered in woad dancing round a burning wickerman full of charred yuppies...): South Somerset heroes, one and all.
The line-up is apocalyptically great (and only an hour or so's drive from 1973) w/ a whole bunch of my favourite bands and artists in attendence (and if you're going too, then step up and say hi...):
FRIDAY 8TH DECEMBER 2006
CENTRE STAGE ( STAGE 1)
DEAD C - 1.15am - 2.15am
SONIC YOUTH (SHOW 1) 11.30pm - 12.45am
IGGY & THE STOOGES (SHOW 2) 9.45pm - 11pm
MELVINS 8.15pm - 9.15pm
FLIPPER 7.00pm - 7.45pm
NURSE WITH WOUND 5.30pm - 6.30pm
DOORS 4.45PM
REDS (STAGE 2)
PRURIENT 1.15am - 2am
BARDO POND 11.30pm - 12.45am
DEERHOOF 9.45pm - 11.00pm
DEAD MACHINES 8.45pm - 9.30pm
MAJOR STARS - 7.30pm -8.15pm
HIVE MIND - 6.15pm -7.00pm
ASHTRAY NAVIGATION 5.00pm -5.45pm
DOORS 4.15PM
CRAZY HORSE (STAGE 3)
FURSAXA - 1am - 2.00am
CHARALAMBIDES 11.30pm- 12.30pm
ISLAJA - 10.00pm - 11.00pm
TAURPIS TULA 8.30pm - 9.30pm
RICHARD YOUNGS 7.15pm - 8.00pm
FAMILY UNDERGROUND 6.00pm - 6.45pm
DOORS 5.15PM
--------------------------------------------------------------------
SATURDAY 9TH DECEMBER 2006
CENTRE STAGE (STAGE 1)
SONIC YOUTH (SHOW 2) 11.30pm - 1am
DINOSAUR JR - 9.45pm - 11.00~pm
GANG OF FOUR 8.15pm - 9.15pm
SUN CITY GIRLS 6.45pm - 7.45pm
WOODEN WAND - 5.15pm - 6.15pm
DOORS 4.30PM
RED (STAGE 2)
COMETS ON FIRE 11.30am - 12.45am
MV / EE + BUMMER ROAD - 9.45pm - 11.00pm
PETER BROTZMANN / HAN BENNIK 8.45pm - 9.45pmpm
CORSANO/FLAHERTY/ C SPENCER YEH - 7.30pm - 8.30pm
MATS GUSTAFFSON + EYE - 6.15pm - 7.00pm
HAIR POLICE 5.00pm - 5.45pm
NEW BLOCKADERS/HATERS 3.45pm-4.45pm
DOORS 3.00PM
CRAZY HORSE (STAGE 3)
MAGIK MARKERS 11.45pm - 12.45pm
LAMBSBREAD 10.30pm - 11.15pm
LESLIE KEFFER 9.15pm - 10.00pm
16 BITCH PILE UP 8.00pm - 8.45pm
BLOOD STEREO 6.45pm - 7.30pm
DOUBLE LEOPARDS 5.30pm - 6.15pm
DOORS 4.45PM
------------------------------------------------------------------------
-
SUNDAY 10TH DECEMBER
CENTRE STAGE (STAGE 1)
MC5/DKT 12am - 1.15am
IGGY & THE STOOGES (SHOW 2)- 10pm - 11.15pm
NEGATIVE APPROACH - 8.15pm - 9.15pm
WOLF EYES - 6.45pm - 7.45pm
AWESOME COLOR - 5.30 - 6.15PM
AARON DILLOWAY 4.15 -5.00PM
DOORS 3.30PM
REDS (STAGE 2)
BE YOUR OWN PET 12 am - 1am
JACKIE-O MOTHERFUCKER 10pm - 11.15pm
MOUTHUS - 8.45 - 9.30
MONOTRACT - 7.30pm - 8.15pm
MY CAT IS AN ALIEN - 6.15pm - 7.00pm
THE NOTEKILLERS - 5.00pm - 5.45pm
DOORS 4.15PM
CRAZY HORSE (STAGE 3)
SUNBURNED HAND OF THE MAN 12.30am - 1.30am
NO NECK BLUES BAND 11pm - 12am
SIX ORGANS OF ADMITTANCE -9.15pm - 10.30pm
ALEXANDER TUCKER 7.45pm - 8.45pm
WHITE OUT W/ NELS CLINE 6.15pm - 7.15pm
THE SKATERS 5.00pm - 5.45pm
BARK HAZE - 4.00pm - 4.30pm
DOORS 3.15PM