MAX CYCLOPS MIX
Kid Kid Kid Shirt's
first mix Cd-r: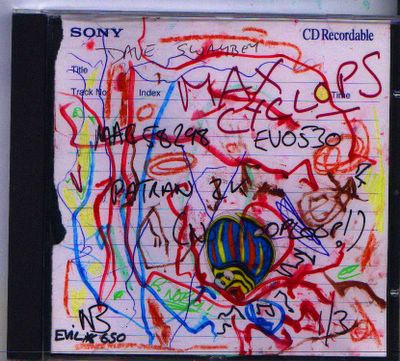 The Squirrels: "Super-Crunk! (Ja Dee's
Special Bigniss
Mix)"
The Squirrels feat. Jonny Cloak: "Smokin' that Weed"
Seven-Eleven: "Durty Gurlz"
The Squirrels: "Shoot Up Da Club! (Lunch Money's Mix)"
The Squirrels feat. Lazy I: "It's Kool"
Bounce, Baby, Bounce: "You Some Nasty Bitch"
The Black Bone Boyz: "Raspberry Beret (Reggaeton Mix)"
The Moaners: "I'm Havin' yer Baby"
A 1972 TOTP compilation cover-version of "Take Me to The River" by Al Green
Funk Force 15: "Elekkkktro"
Theme-tune from "Bleep and Booster"
Big Scissors: "Shift Some Weight"
Mary, Mungo & Midge: "16 acres of Sky"
A Vesta Paella TV advert from 1971
Max Cyclops: "Y-y-you"
The Plexiglass Helmets: "Future Boy"
Postman Blue: "I Hate The Fall"
Assorted Clanger sound-fx
A sound-clip of Orson Welles from "The Lady From Shanghai"
Capt. America sat. morning cartoon extract
Mugwroosh: "The Boat Song"
Pop Parker: "Jennifer Knows What She's on About"
The Glaxo Babies: "Stay Awake"
Theme-tune to "Cannibal Holocaust"
Mud: "Tiger Feet"
Assorted explosions and gunfire from an Action Man 7"