SECOND ATTENTION (PLUS A COUPLE DIVERSIONS)
Also, there's a piece
here
, that I did a while back on the excellent "
Second Attention
" album by
Wooden Wand and The Sky High Band
, wh/ makes for an interesting book-end with the "
Horus of the Horizon
" CD on 3-Lobed.
Simon
pointed out the intentional tribute to John and Beverley Martyn's "Stormbringer" cover...
...but I wonder (living in NY as he does) if he's heard that new post-James Blunt Radio-2 type singer-songer-writer kid-on-the-block (whose name has thankfully auto-deleted itself from my mind) who's actually gone as far as stealing Martyn's mid-70s
voice
...it's like Blunt w/ a John Martyn vocal transplant (scary!)...I saw Martyn play live in the late 70s after "
One World
" came out and he had an interesting live solo set-up that featured him plus gtr plus a sequencer and delay-box that got pumped round some sort of quad-style PA array, so that the vocals and delay went
whoooo-ooo-oo-oo-oss-shhh
round n round the room; he made quite an interesting racket for a just a so-called solo folk guy, having just come out of his conventionally
strummy
era and was starting to embrace new (70s) technology and even Dub methodology ("Big Muff" from "One World" was co-written w/ Lee Perry, I seem to remember...)...I also seem to remember the guy had a biiig appetite for life, polishing off a whole bottle of wine (straight from the bottle) and 2 or 3 spliffs during his set, yet seeming none the worse for it...well, okay, a little 'loose' I guess, but I think he liked to improvise...but after "One World" his music seemed to falter and instead of heading off into new hybrid territories he was convinced by his management to try'n go commercial and he wound up working w/ Phil Collins and getting increasingly bla-a-a-and...and then got a band of session-guys andzzzzzzz...
There was a documentary on Martyn on BBC4 not long ago which tracked him prior to his operation to have a leg amputated (a consequence, I assume, of his continual alcoholic over-indulgence), his partial recovery and attempted come-back. He was pissed and/or stoned most of the documentary, rambling on about the medicinal qualities of 'spliiiiif' in a poshboy patois - nothing wrong w/ that except he came over as being a bit of a twat, to be honest (I don't envy the women in his life, whose job seemed to be to follow him around w/ a dust-pan and brush, picking up the hedonistic fall-out from his so-called 'genius' (cue Chris Blackwell, etc))...his voice still occasionally had some of the tonal qualities of his youth, but it was difficult to reconcile this bald, bloated, self-obsessed piss-head singing a karaoke version of "Couldn't Love You More" in an Irish pub w/ the soulful, freewheeling rascal of 30 years ago. That's what happens when you don't finish yr homework before you go out to play, kids.
There was another documentary a few weeks later about
Ronnie Lane
(ex-Faces/Small Faces), who came across as a far more sympathetic character...I'd forgotten how great "
How Come
" and "
The Poacher
" were...he also dropped out totally and set up a sort of shambling Folk-Rock Circus Tour thing and his whole line of thinking seemed/seems v. much in line with some of the stuff that I'm/we're digging right now...I'm certainly gonna be checking out & grabbing some of his stuff...I mean, fucking 'ell, Ronnie pretty much invented UK Raggle-Taggle before it even had a name...(tho Dylan (again!) circa 72/73/74 had some say in the
look
of it with the corkscrew Jew-afro, bandanas, waistcoats, white collarless gentry-shirts...ah, fuck, alright, and ISB too...
but I like the idea of Ronnie as early(-ish) adopter
, okay...)
Anyway, back to the
Wooden Wand
album...I hadn't picked up on the
Robyn Hitchcock
influence until James T himself mentioned it (which is surprising as I was (still am) a big fan of Hitchcock's 70s/80s stuff; though drifted away in the late 80s...)...then it was "Duh! Of course..." listening to "
Crucifixion pt II
" it seems totally obvious after the fact, 'specially the louchely surreal couplets and the wonderfully mournful & Robynesque harmonica/guitar break-down 2/3rds the way through...('course Hitchcock (
and
also Mike Scott of The Waterboys - himself a
late
Raggle-Taggle adopter) was an acolyte of Dylan (um, didn't Robyn once do an LP of B. Dylan covers??))...anyway, "
Mother Midnight
" has also def. got a Hitchcockian feel (and title) with it's lilting refain of "ooooh-wooo-woooo-hhh" that leads out into a chiming, descending gtr-line...an' love that line "And this is the way that I like you best in the world..." there's such implicit tenderness...
Wand told me: "Yeah, I totally love Robyn, even more than the
Soft Boys
- Donovan of the (Skygreen) Leopards is also a huge fan. "Eye" is one of my road trip favorites, and yes, I certainly consider him an inspiration, lyrically..."
Hitchcock was always (unfairly. I thought) tagged as the poor man's Syd, but as well as having a
Dylan filtered thru the English middle-classes
sensibility, I always thought there was a sort of dark, archaic, almost neo-medieval feel to some of his solo stuff that borders on the outright Gothic; there's often a preoccupation with skeletons, bones and skulls in the imagery of his songs (sometimes, they feel like the psychedelic pop equivalent of
woodcuttings
), while tracks like "
Lady Waters and The Hooded One
" has a
Masque of The Red Death
meets Steeleye-Span feel to it (Plague pits, pox and boils = errr..."apocalyptic folk"?)...and what I'm trying to say here, but I'm too tired, is that this all kinda dovetails, I guess, into WWVV's own imagery wh/ (sometimes) has a quasi-apocalyptic, fire n brimstone ol' time religion feel too, which strikes me as peculiarly
European
...
Yeah, so interesting, then, that a whole bunch of bands got tagged as New Weird
America
a few years back, when so many of the strands lead back to The Old World & allsortsa 60s/70s Brit Music...first time I spoke to Wand/Satya a while back they were name-checking the Brit pysch-blues of Deep Purple and early F. Mac...
while, on their Spring Tour 2006 CDr...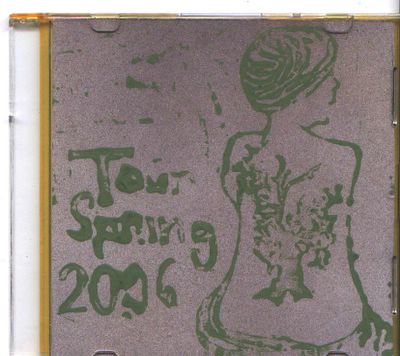 ...they cover "
Goodbye the Day
" by English Folk singer
Mandy Morton
who played w/ various Folk-Prog-Rockers incl. members of
Steeleye Span
and
Gryphon
...