EAT THE SUN/RAT KING COLE
Word up! to
Ernesto González
, the Venezuelan psychojam wunderkind who exited our universe via The Black Sun and found himself in Waterloo, Belgium...
I first encountered 'Nesto via my recent incursions into the Belgian sub-underground. Thanks to him for sending me some recent output from his triffik
Eat the Sun
label...
This is is kinda topical, I guess, given the amount of money a Pollack original recently went for:
And lovin' what he's done here w/ cardboard and some carpaint: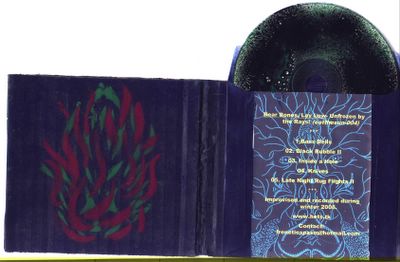 "
Unfrozen by The rays
" by
Bear Bones, Lay Low
is a fistful of beautifully messy, transtemporal gtr/fx/loop-driven timehymns: 3rd Bardo soundtracks...slo-motion films of yr crown-chakra at the moment of death...
The track "
Black Bubble II
" is like pot-holing thru a tunnel full of scissors whilst high on Meth, chased by the ghosts of yr angry ancestors: remember that 50p you nicked from yr auntie's purse in 1971? Well, the bitch wants it back. This is "The Evil Dead" remade by Ira Cohen. Filmed in an abandoned mineshaft w/ blacklight skeletons painted on the coalface n tiny birdskulls embedded in the walls. Lights crackle on and off; distant drillnoise; zombie miners w/ red lights in their helmets...
The music on this CD hints at a sinister ecstacy: the forgotten play-list of ghost radio-station WMX-69; music for leaking iron-lungs; abandoned subway stations converted into low-ceiling'd cathedrals; a star-map of the Lobster-Claw Constellation: louder...LOUDER...until you're a plaything for
rats
...
Why do people go on about fucking Kevin Shieldsblahblahblah when there's people making music like this?
Ernesto also records as
Hatanaka Creatures.
There's an album due soon on the mighty
Funeral Folk
label. He says:
"Well, Hatanaka Creatures is basically just me playing a bunch of instruments + effects to make short psych songs. Most of them range from 1 to 5 minutes tops, at least for now. The Funeral Folk dudes liked what they heard and they're gonna release the first Hatanaka Creatures cd-r as soon as I finish it. Per (from FF) says that these songs have a "doomy" feel to them...
I have a Myspace page for my micro-label
Eat the Sun
; it's a shared profile with another micro-label from Venezuela called
Hormigon
: there's a Hatanaka Creatures song there, along with a
Bear Bones, Lay Low
track (which is a drone-noise project that I have)...
About those three tracks on the profile:
The first one is
Bear Bones, Lay Low
which is my noise baby. I try not to play with a lot of pedals, but, yeah, I mainly use delay, fuzz and a crappy multi-effect. But the BBLL set up is usually pedals, mixer, cassette player, guitar, a cheap keyboard and a mic. Gaahhh, I wished I was more analogue, you know using typewriters and stuff, but I'm actually more digital than I sound. Pedals, mixer, cheap keyboard, guitar, mic and cassettes make up my set-up, which isn't very analogue indeed (no ancient delay machine, nor big ass tape-reels for me :( )...
The second track is by a Venezuelan noise-dude who plays under the name
Die Ursache
. I met him when he was starting his Hormigon label and we've been playing together and working on the labels ever since. He uses a lot of pedals and makes really loud doom-noise. And the last track is Hatanaka Creatures...
Right now, I'm only doing shows as BBLL and when I go to Venezuela I play with Die Ursache under the name
Floot
. Maybe some day I'll get to do Hatanaka Creatures shows, I hope..."
Ernesto also sent me a really cool 3" Cd-r by
Rat King Cole
(grrrreat name!)...
In places, this is like a sloooow astral wind blowing in from The Outer Reaches...elsewhere, there's vague hummmm n buzzz comin' from inside the sock-drawer under yr bed: something that sounds like a telephone calling
itself
...tiny microsound vignettes that remind me of early Chris Watson era
Hafler Trio
: small jetplanes circling yr bathtub; phased microscopic waterspouts; liminal smears of sound hunting for ears to infect as they dopplershift between freq-ranges; little living-machines moving around yr house late at nite, feeding on dustmites; the sound of televisions switching themselves on...
'Nesto sez: "Oh yeah,
Rat King Cole
is a British friend of mine. He's living in Belgium for the moment, but he'll move back to Newcastle by the end of the year. His main project is
Chalfont
and you can check out some mp3's
here
. He's playing a show in London this week (back in Oct - sorry for not plugging it! - Kek). His stuff is really calm and more thought-over than mine. I really dig it..."
"I'm glad you liked the packaging and all of that," he says, "Because I tend to spend a lot of time doing each and everyone of the little fuckers, hence the slowness of my output. But that's something that's really important for me and plus it's fun, especially if you do them with friends and shit."