FACT 16: BELGIUM AND BEYOND
The latest ish of FACT hit the streets this week, and includes a piece on the Belgian Sub-Underground by, uh, me:
Thanks to all the super-cool people who gave up their time to help me on this.
Wim Van Gelder
from
ManGenerated
...the mighty
Dennis Tyfus
from
Ultra-Eczema
,
Carlos
from
Audiobot
,
Ludo Mich
,
Per Oystein
,
Edgar
and
Hellvete
from
Funeral Folk
...(expect a big post on/interview with
Funeral Folk
any day now, now that the magazine article is out...),
Bart
from
Sloow Tapes
,
Bram Devens
aka
Ignatz
,
Lieven
from
Bread and Animals
(formerly
Imvated
),
Jelle Crama
...Heroes, one and all! I also spent a very pleasurable half-hour or so chatting to
Bobby Colombo
on the phone; he's a gentleman dude...
Phew! Have I forgotten anyone? Don't worry if these names haven't sunk in yet; you'll be hearing plenty more about these people on this blog...I'll be following up the FACT article w/ posts on some of these folks, as I had loads more material than I could use in the article...as well as
Laurent
from
Veglia
, who got in contact after the piece went to press...and also
Ernesto Gonzales
, who's making some great noise-psych stuff as
Hatanaka Creatures
; should be running something on him soon as I get some time...crikey, this is all because Pieter from
(K-RAA-K)3
pinched a cigarette off me at a
Fonal Records
showcase and we got chatting...
Damn, just remembered: I was gonna plug
V/Vm's
gig at
Live in De Living
, but I forgot. I think that was a week or two back. Sorry, Vee...
Oh, and don't forget the
Pauze Festival
, later this month.
...annnnnnnnnd, speaking of Belgium: a coupla hot new cassette releases on
Sloow Tapes
that look well worth checking.
Samara Lubelski
"Quartet"
Sloow Tapes – Ottobre
One Sided CS 60
(The words are Bart's. not mine:)"Meditative violin drones dissolving time into wide open space of home recorded cosmic ambience. A universal consciousness of hypnotizing star gazing sounds that melts right into the centre of the mind's eye. Artwork by Samara. Reflecting edition of 148 copies."
...Annnnnn/////////////d:
Frozen Corpse
"Dance Of The Insects"
Sloow Tapes – Gaat Hard
One-sided CS 60
"Homegrown insect smoke and far out grooves by Orphan Fairytale and Audiobot labelhead duo. Totally grim. 60 stoned copies."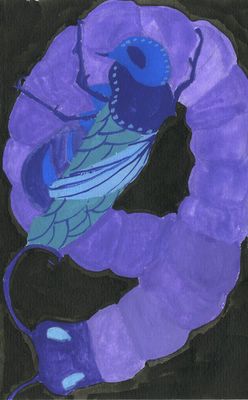 Yeah,
Frozen Corpse
are
Carlos
from
Audiobot
and
Orphan Fairytale
(aka
Eva Van Deuren
), who I tried to get an interview with, but it didn't happen. Maybe next time, huh?
Orphan Fairytale vid (below) filmed by, I think,
Jef Mertens
at the
Break Down The Walls
exhibition by Dennis Tyfus and Vaast Colson in Antwerp, September 20th, 2006: