SQUIDS IN
Down w/ Martian Neural-Flu right now and reduced to watching re-runs of "
Hogan Knows Best
" (loads better and far, far stranger than "
Lost
", I'm tellin' ya!) while Chris mops my limp, sweat-sodden brow w/ black seedless grapes. Still...I'm totally lovin' that pic of the giant squid over on
John Eden's site
. ("The eye...the terrible
eye
....goes rollin' around...") Quite frankly, I don't care whether it's a fake or not...
If it's real, then it's a tribute to the astonishing spectrum of bio-diversity available on Ol' Mutha Earth. We need mind-jolts like this just to turbo-charge our vapid imaginations and remind ourselves of the infinitude of possibilities available in the multiverse. And if it's a fake, then I'm equally awed that someone has actually gone to the bother of creating a giant squid hoax. Another possibility is that its a pre-production snap from a recent straight-to-DVD Z-Movie, in which case, I
demand
to know what the film is so that I can watch it immediately in my flu-addled state. I will happily swap a double-film DVD-r of "
Octopus
" and "
Octopus 2
" for a boot of "
Killer Squid Squad
" or whatever it's called.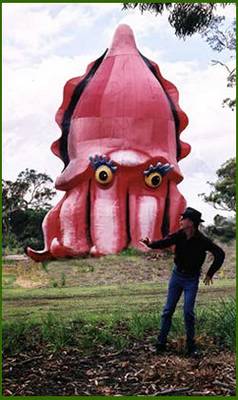 Still, this all prompted a sudden, but not entirely unexpected, outbreak of
Squid-God Archtype Worship
on the Blogosphere, though that soon devolved down into, er,
Octopus Porn
and eventually:
Lesbian Cthulhu Porn!
Phew...if that don't inflate you thrill-starved weirdoes faster'n a water-filled hydro-skeleton, then I don't know what will...