EVERYONE'S A WINNAH, BABY!
Ah, shit, nearly forgot about my sad little 'competition' that was probably only of interest to about 3 other people in tha world. The illustration in question came from this (which I've been re-reading recently):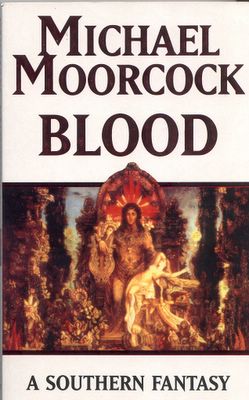 It's a cool read; more 'literary' than you'd expect; extremely hallucinatory in places and chocful of deliciously inventive ideas. The whole book-within-a-book thing is reminiscent of Burroughs circa "
Cities of The Red Night
" and I also can't help wondering if Grant Morrison has dipped into this too, as there are vague conceptual resonances here with "
The Filth
" and "
The Invisibles
" when Moorcock plays around with ideas such as Scale, 'Fictional' Universes, stories that become Real, breaking the Fourth Wall, etc. And wasn't: Grant Morrson = King Mob = Gideon Stargrove = Jerry Cornelius?
Still, I only posted the picture, really, because I thought it was a cool illo (and had forgotten it was in the book!). I just loooove weird, cryptically-annotated illustrations or diagrams: LP covers by
The Fall
or
Pavement
were always a joy to behold...Religeous tracts and crank-cult manifestos; cheaply xeroxed/lithographed conspiracy-theory booklets; freemasonry artwork; arcane blueprints; ancient maps; Victorian/Edwardian books and pamphlets on Zoology or Botany,
especially when they involve insects
...in fact, my interest in the Occult almost certainly derives from its imagery: the charts and diagrams, the ritualistic paraphernalia...
Ahhhh...what was I saying? Oh, yeah, anyway...I've got some slightly tatty duplicate copies of "
The Stealer of Souls
" and "
The Quest for Tanelorn
" languishing on the bookshelf, so if John, Ade, Loki or any of the other Moorcock Sad Dada Dads haven't got them and fancy a fluffy, lo-fat (but
druggy
) autumnal read, then they're more than welcome...otherwise I'll pass 'em on to Dom (who's prob. got them, anyway) next time I see him for his stock pile. So arm-wrestle amongst yrselves and let me know if anyone wants either and/or of 'em.
I did like Psychbloke's suggestion that we run a limerick contest. So I thought: hey, maybe we could be contempo and do one about
Fiona Richmond
, but then I realised that "Fiona" rhymed with "moaner" and "boner"...and I just knew that the whole thing would end in tears...
But don't let me stop you.