SECRETS OF SEX
Cor!
What a bloody carve-up!
A week or two after I post on forgotten cult film-maker and Burroughs' collaborator
Anthony Balch
, mainstream splatter 'n' cheesecake publication
DVD World
goes and runs an article on the man. Prompted, I presume, by the fact that his freaky 1970 UK sexploitation film "
Bizarre
" (aka "
Secrets of Sex
") has finally been released on DVD:
Definitely worth checking out, not just for the fact that the film segments are linked by a mummy (voiced by
Valentine Dyall
- the original "
Man in Black
"...like me, some of you aging Brit trendies out there may remember his distinctive and creepy voice from various thriller/horror radio plays, but he also appeared in Blakes 7, Sapphire and Steel, Doctor Who, etc), but because the extras contain restored versions of his two Burroughs collaborations: "
Towers Open Fire
" and "
The Cut-Ups
".
Also sat astride the razor-edge of The Zeitgeist is
Dom Zero
, whose blog recently ran a piece on
Fiona Richmond's
epic Sci-Fi book "
Galactic Girl
"...well, the very same ish of DVD World contains a piece on her Low-Budget Lesbo-splatterthon "
Expose
" (aka "
The House on Straw Hill
"), the only UK film to get banned as a video-nasty.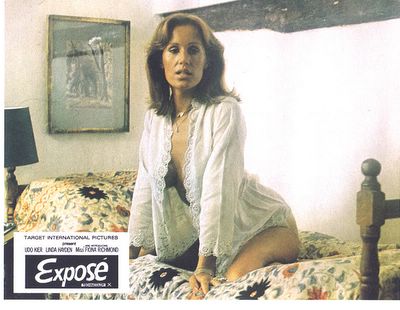 Fiona, eh? Cor! Phew, that brings back, er, firm memories of the 70's Softcore heyday of
Penthouse
,
Mayfair
, etc. Time for a Fiona Richmond reappraisal, methinks. So, come on, gents, and dust orf yr copies of "
Let's Get Laid
"...
And, apparently, a remake of "The House on Straw Hill" is on the cards. Well, stranger things have happened.