FALCO Vs. V/VM
There's a whole bunch of reasons why I prefer
Falco's
version of "Rock Me, Amadeus" to
V/VM's
digital exhumation-and-reburial...
(1) Johnny Holzel's coked-up stutter-rap delivery and accent...
(2) That
chorus
...
(3) Does he really sing "Mungo Cunt"...?
(4) That unexpected femme-vox middle-eight section...
(5) Fabbo 80s Prog-Pop Sub-ZTT production values/Simmonds Toms/gated Linn Snare/digital string-synths/unforgivably-needless sampler abuse/etc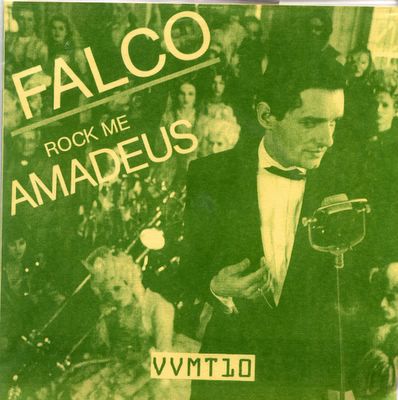 In comparison, V/Vm's version sounds kinda lazy, lame and unimaginative, too easily reproducable. I mean,
it's almost the sort of thing I would do
, fer Christsake.
Probably, there's nothing actually wrong with it, per se...it's just that it's become too familiar...I don't mean the tracks they've built, but rather the PC-based granulation/sound-erosion software tools and the chop/cut/paste/timestretch techniques that have been applied. It's reached a point for me where a whole raft of electronic music has suddenly become virtually unlistenable because the processes used have become transparent and over-familiar...I no longer hear the track, just the fucking filtering/subtractive synthesis plug-in that [bandnameofyrchoice] used to angle-grind someone else's music down to a raw 2-bit swarf of digi-noise. If I ever hear another Kid606 RnB-Glitch 'bootleg' again, I'll surely puke.
So, don't take this perz'nal, V/VM boyz...
In fact, writing this as I play V/VM's version(s) one last time b4 letting it go (like a shit-stained dove into the pre-Autumn skies of South Somerset), I'm swamped by an inexplicible nostalgia for an era when Digi-noize still sounded fresh and exciting...when hearing Mud or Propaganda or Buggles chain-sawed down into the hard-drive equivalent of tinnittis still gave me a stiffy (or were we just really celebrating our mutant-anorak ability to still recognise sub-frequency snippets of the original source-material...?). It's incredible how quickly this stuff's dated (maybe I'll be sobbing helplessly in 3 years time, wishing I'd never sold this stuff when it suddenly becomes fashionable again, or re-combines in some hitherto unexpected way with Turkish Two-Step Polka). Now I just want some Prog-Pop Glam...I want to hear the Euro-Pop originals again in all their clean, full-bodied, sub-Steve Lipson splendour.
So it's probably for the best that I've just sold V/VM's double-7" on to some eager young lad in Germany. I'm sure he'll treat it with the love, respect and unjaded enthusiasm it probably deserves.
(Thinks: Hmm, there
was
a
Rehberg & Bauer
mix on there...maybe I
shouldn't
have sold it just yet...still, there's no way I'm parting w/ my
Pita
vinyl: after all, I still cherish fond memories of watching Peter Rehberg play at 12:00 in the morning at ATP 2 years ago, me with a crippling hangover while he played a laptop set that sounded like a jet-engine taking off. There were three of us sad bastards stood right at the front watching him plug-in his Mac: me, some other digital-noise nerd with taped-up glasses, and a third guy who looked suspiciously like
Jim O'Rourke
...)