"SWOOP! SWOOP! OH, BABY, ROCK, ROCK!"
This is
Andy
…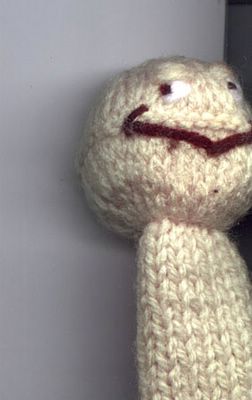 How to explain this? Okay…this is NOT one of the Kid's toys. Andy is my
familiar
. He sleeps under my pillow at night and whispers sweet evil
nothings
into my waxy yellow right ear…
I bought him at a (*Gack*) Craft Fair a few years ago, back before we had kids, because his sinister, knowing leer struck a resonant bell somewhere within my twisted inner-mind. Hard to believe that he was probably knitted by some neurologically-challenged granny incarcerated in a bungalow somewhere near Nether Compton. (suh-suh-speaking of demonic grannies and knitting: I am soooo enjoying the new series of
The Mighty Boosh
…)
The Craft Fair was organised by a Sherborne-based twat who ran as Tory MP for Yeovil (and lost). So Andy is empowered by some seriously high-powered
Boooshwoir
Majik…through him, I can unconsciously tap into the collective Hive-mind of the Upper Middle-Classes, psiphon their arrogant aspirational energei and twist it to my own nouveau psychedelic ends. The entire power of the Daily Mail-reading masses is at my disposal, ready to be turned against them. No need for exhausting Khaos Magick rituals/incantations/etc or 2am naked Wiccan gatherings on Ham Hill, just having Andy under my pillow means my dreams are just one snore away from materialising in the, er, material world: magazine editors return my emails, rare acid-rock albums and Science-Fantasy novels from the Seventies fall into my lap without me even raising a finger…I switch on the TV and
Patti Smith
immediately sings a fantastically virulent version of "Horses" from a 1976
Old Grey Whistle Test
session; I switch channels randomly and instantly find a documentary on 70's Porno-Chic featuring shag-actress
Marilyn Chambers
(as immortalised in Cronenberg's "Rabid") showing clips of her in action in "
Insatiable
" and "
Behind The Green Door
"...Magazines randomly fall open at my feet, telling me that
Bananarama
have reformed, crows-feet and all (but they still look great to this sad old knobhound)...I open a newspaper and the first thing I see says that
Dennis Hopper
has bought back the rights to "
The Last Movie
" and is releasing it soon on DVD. Thank God...that 20 year-old video taped from the TV is on its last legs and showing serious post-child-birth stretch-marks, so bring on the incomprehensibly fucked-up 4-and-a-half-hour Hopper-on-Coke Edit...
Life's good.
Thanks, Andy.