MISSION IS TERMINATED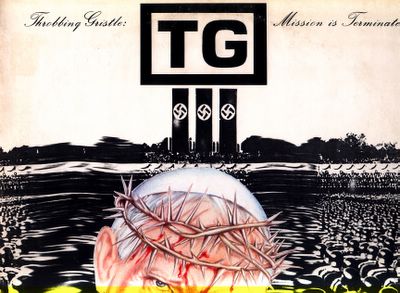 A bit of inter-blog leakage from the comments box
here.
No, Martin, you weren't imagining things:
Mark Perry
of
ATV
does indeed seem to be calling
The Police
"a bunch of fuckin' cunts" on this LP. (That's Gordon the Garden Gnome's old group, not The Met) The 30-second 'track' in question is called "
A&M Meeting in Police Tent – Reading – August 28, 1979
", in which a near-hysterical Mark P spews forth a righteous anti-Police/A&M Records rant: "they sell you bullshit…they sell you a load of fuckin' crap!"
I'm guessing, but it sounds like some sort of Gold Disk presentation is taking place (after The Police had played that year's Reading Festival?) which Mark heroically succeeds in disrupting. (Anyone got any info on this?) The Police were on A&M Records, I seem to remember, but ATV were on one of the labels run by
Miles Copeland
(Illegal Records, Deptford Fun City Records, Step Forward…), brother of Police drummer (and ex-
Curved Air
sticksman) Stewart. Copeland managed The Police and Squeeze, but allowed Mark Perry to use his office to put out legendary punk fanzine Sniffin' Glue (whose circulation eventually rose to 20,000+)…As well as The Police, Copeland also managed Squeeze, and eventually, er, The Bangles…
There's an American accent in the middle of all the shouting and name-calling on this track which is presumably one of the Copeland brothers. Mark Perry,
whatta hero
…his hektoring deserves wide-spread recognition via an mp3-post, but unfortunately, I've yet to sort out my hosting…
I saw Curved Air play The Johnson Hall, Yeovil in 197somethingorother, where (to my eternal shame) I copped a sneaky drunken mid-song teenage feel of (S. Copeland's then-girlfriend)
Sonia Kristina's
tit…an act that will, no doubt, haunt me to my prog-rock death-bed.
The TG tracks aren't bad either.