GERRY AND THE HOLOGRAMS
DIY Electro-Punk Minimalism from 1979. Dig the Residents-referencing sleeve: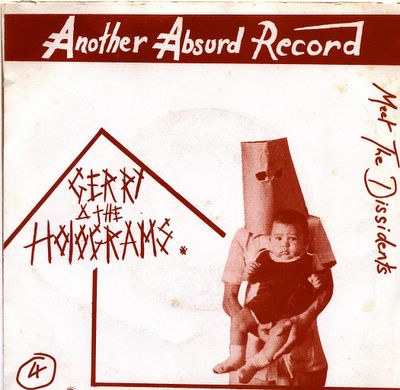 Two-fingered synth-line with delay-distorted uber-deadpan Manc/Lanc spoken-word vocals that make John-Cooper-Clarke sound like a bloody public-school boy with a plum in his mouth:
"Did I say there were sixteen of us?/I'm sorry, there's only one/The others are just fragments/Of Gerry and The Holograms..."
The treated vocals cycle endlessly, round and round, like a Hotpoint washing-machine stuck in its Dry-Cycle, or a bored dalek invading an episode of 'Coronation Street', until the hum-drum mantra-like repetition eventually induces a sense of queasiness and unease. It's a piss-take, of course, of the newly-emergent late-seventies Northern Synth Scene, wry and artful, that quite rightly revels in its own regionalism. Over twenty-five years later, this single still sounds surprisingly fresh... almost
alien
to my aging ears. For me, the joke never wore thin.
I like to think that maybe its younger brother's kids grew up and formed
Virus Syndicate.