ATLANTIS RISING
"Word up!" to m'man superstar artist and drinking buddy
Andy Clarke
, who's just completed a two-ish stint on
Aquaman
(#30 and #31):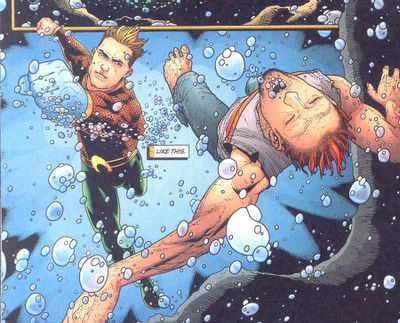 Big up the Yeovil Comics Massif! Andy lives in Stoford, a short but creepy
Sleepy Hollow
-esque walk from Downtown Yeovil thru the darkened backwoods of Newton Copse. I used to collect conkers up there in the autumn back when I was a kid in the late Seventeen Sixties. But watch out for the weird sentient scarecrow with a scythe and the skeletal horseman with a burning head! Stoford: that's Doctor Syn country, I'm tellin' ya.
If anyone can return Aquaman to the Late Sixties/Early Seventies glory days of Steve Skeates/Jim Aparo, Andy can. Go, Clarkie, go!