THE FERAL GANGS WHO RULE OUR STREETS
Today's
Daily fucking Mail: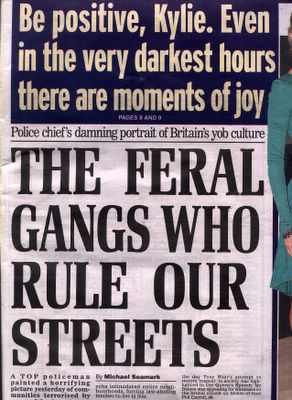 What a
great
headline!
For those of you who can't be bothered to click & enlarge, the small bit of text at the bottom (I mean, God forbid they don't run a picture of Kylie on the front cover) reads: "A Top Policeman painted a horrifying picture yesterday of communities terrorised by gangs of 'feral youths'..."
But shouldn't that read "A top Artist..."? Or maybe it's a policeman who paints part-time, as a hobby or pastime. Either way, I'd really love to see this horrifying picture that he's painted. I wonder if it's in the style of
Simon Bisley
? Or maybe even
Bernie Wrightson
? Bet it's not
that
horrifying, tho'...I regularly watch Italian Cannibal movies, I'll have you know.
Still,
feral kids
...just how prescient was I to have written
this
:
(
Second City Blues:
2000AD Prog 1424, Feb 2005)
As their armoured Away-Bus is pelted with bricks and molotov cocktails on their way to a match in Wolverhampton, Coach says: "Oh, nothing to worry about...
just some feral kids
."
Wolverhampton has been renamed Second City, Sub-District Three ("twinned with Vulcan's Arse, Callisto..."), but a grafitti-artist has bombed the sign and renamed it
Wolf City
, after my favourite Amon Duul 2 LP. Still, hadn't counted on feral kids "ruling our streets" 'til at least, oh,
2278
...hurrah for The Mail!
But (feral) kids today, eh? They're a bloody disgrace...they need to buck up their ideas: most of them can't even make a decent petrol-bomb. They would've been effin' useless in Paris, 1968.
Still, here's hoping that the
Daily fucking Mail
come up with some more hysterically
Buffy
-esque headlines like "MRSA Werewolf Hospital Rampage", "Disgrace of Asylum-Seeking Vampires", "Blair is Satan's Poodle", etc. I'm sure they could do a good one about 'hoodies': "Hooded Terror That Stalks our Malls" or something similar.
As for Kylie's breast cancer diagnosis: Yeah, cheer up, luv..."Even in the darkest hours there are moments of joy"...
unlike your bloody records!
All I can say is:
thank Christ it wasn't Dannii!