FRIDAY THE FIFTEENTH PART 2
I love the fact that
Nick is available to DJ at Exorcisms
. This opens up a whole raft of possibilities. Next time I need an Exorcism though, I won't call Nick, 'cause
The Devil has all the best tunes
. Heh. (Wonder if he's got an i-POD yet...? Old Nick, I mean, not
Young Nick
...one with 666gig of memory..."Ah, bugger. Me vinyl keeps bloody melting", etc)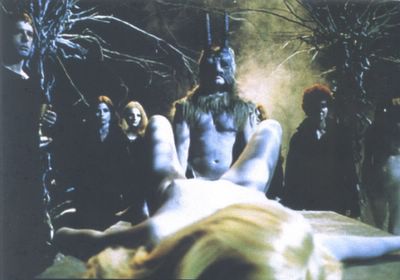 Personally, I can only play 1/64th of a Bar Mitzvah, which creates a number of logistical problems: UN Peacekeepers invariably get called in to referee my set, etc...with the guy who's playing the other 63/64ths of the party complaining that my last tune went 0.053 of a second over time. Still, the food's usually good.
I am, however, available to DJ at forest fires, lynchings, outbreaks of Foot & Mouth Disease, ram-raids, Ann Summers parties, libraries, cock-fights, abattoirs, flower-shops, operating theatres, tattoo parlours, oil-rigs, dentists, Hazel O'Connor gigs, Masonic Induction ceremonies, volcanic eruptions, magistrate courts, premature burials, premature births and premature ejactulations.
Unfortunately, I can't make it to tomorrow night's Dubstep/Grime do at
The Black Swan
,
Bristol
, because I've been stitched up on the child-care front...which is a real shame 'cause it's a bloody cracking line-up:
ThinKing with October/Cyrus/Digital Mystiks & Loefah/Plasticman/Vex'd/Pinch with Blazey
Hope everyone that goes has a great night! Fuckin' wish I was going, but hopefully I'll make it up for the next one...