LIVE AT THE VENUSIAN ELECTRIC BALLROOM, ILFRACOMBE
Picked this up on Sunday in a cool little record shop down on the quayside, in
Ilfracombe
, Devon:
Got chatting to the record shop guy who told me it had only come out a day or so earlier, and that (small world!) he had promoted the
Space Ritual
gig in Ilfracombe a few days before
I saw them in Honiton
. Apparently, most of the band were so smitten with Ilfracombe that they stayed there in B&Bs for three days. They're returning to Ilfracombe in September to headline the Flying Man Festival, wherein various local eccentrics dress up in bizarre costumes and leap off the pier...
Checking out the Space Ritual CD right now, and (cue Tony the Tiger voice:) "It's
guuuhrreeat!
" The band are on fine form; very tight, very focused. They sound punchier, a lot tougher than when I saw them...In fact, I take back what I said about them needing Dave Brock and /or an extra rhythm-guitarist. I think this was recorded at a recent-ish London gig, and if this is what they sound like on a good night then I'll def. be going to see them again. The opening track "Cosmic Chant" is a new group-composition and bodes well for their Dave Anderson-produced LP: a dense, amorphous Acid hybrid that references both Duul and early Hawkwind. There's a pumping Hawkwind-goes-Punk version of
Inner City Unit's
"Watching the Grass grow", a terrific version of "D-Rider" with Nik in excellent voice and featuring a blinding Mick Slattery guitar-solo, and....well, you get the idea. This is a real joy: well worth checking out by both OAP Hawkwind fans (like myself) and Apprentice Trainee Acid-Heads.
(Some more Space Ritual Flash-Facts:
(1)
Dave Anderson
also played in The Groundhogs (and with Nick Lowe - wotta CV!).
(2)After he left Hawkwind,
Thomas Crimble
helped co-organise many of the early Pilton/Glastonbury/Worthy Farm shindigs.
(3)'New' keyboard-player
John Greves
was in/on Bob Calvert's "Captain Lockheed & The Starfighters.
(4) Mick Slattery's playing on this CD is a revelation; he's fast becoming an Acid-Rock guitar hero in my personal psychedelic pantheon.)
Anyway, record-shop guy takes me out to the back room and shows me a treasure-trove of groovy seventies vinyl (Goundhogs' LPs...Man,
Budgie!
)...then tells me that he's originally from London and used to watch Hawkwind play down the Portabello Road under the arches on saturday mornings in the early Seventies: "Yeah, we used to get a cup of tea and a bacon butty from the caff and go down and watch them. Bloody great, they were..." Boy, I'm seriously jealous...
Seems like he's been putting on some other bands down in Ilfracombe:
Arthur Brown
played last year, apparently: "He played a helluva show...totally brilliant. What a showman. Can't believe the guy's, what, 66...? His voice hasn't changed a bit over the years...well worth seeing," enthused record-shop guy.
And this is coming up soon: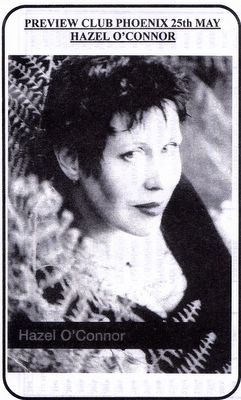 Brilliant!
Apparently, Hazel still does "Eighth Day", "Will You", "Calls the Tune", etc live...Ah, fuck it...if she played Yeovil, I'd go...if only to see her do that brilliantly-crap robotic-locomotive dance of hers.