TOMMY ROT
Nick Gutterbreakz' rememberings of Seventies Westerns, War books/comix/films, etc (below) roughly parallels my own childhood. WW2-related literature survived into the Seventies, I reckon, because it was a way of critiquing the Vietnam War
w/out actually having to mention it
. Mainstream filmakers only started openly referencing Vietnam w/out fear of inciting another Sixties-style Drug-fuelled Yoof 'uprising' when Hollywood sniffed Oscars/box-office action with worthy dreck like "The Deer-Hunter" (surely the cinematic equivalent of a
Brooce
Springsteen LP?).
I think what I am really mourning is
loss of choice
, rather than loss of childhood. Tesco and WH Smith have all but annihilated the small independent newsagent, yet are unwilling to stock minority-interest magazines like
Shivers
,
The Dark Side
,
Terrorizer
, Tattoo, True Detective, Wrestling and Hot Rods magazines, etc. And the death of sale-or-return distribution in the UK has murdered easy High Street access to Marvel/DC comics. Smiths in Yeovil (which has a catchment area of, say, 40-50000 people if you include the outlying village populace...) won't even stock
The Wire
magazine because "we get no call for it". (Yet they put out of business the small family-run shops who
did
keep it on the shelves. *Sigh*...)
Apart from 2000AD, unless a comic has a TV/film licensing tie-in, then you can bloody well forget about it.
Sooooo
, I was pleasantly surprised and shocked to find Smiths had suddenly started stocking
Commando
again for the first time in 15 years.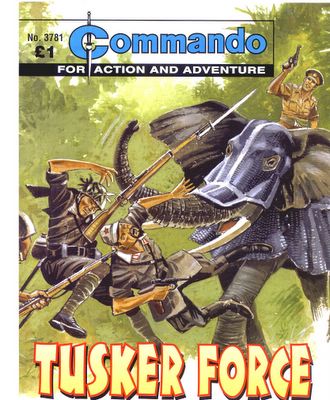 "Tusker Force" is typical (but entertaining) fare: a British officer/Public School type in Burma commandeers a bunch of locals and trains elephants to
gore
invading Japanese troops. Subtle (or PC) it ain't...
As you're probably aware, some of my favourite people are Japanese and I bear no malice against them as a race. I wish I could say I'm 1/64th Japanese, but I'm not. From a cultural/intellectural POV, how can I compartimentalise these two strands of my personality? Is it possible to reconcile my love for retro-jingoistic tommy rot like 'Tusker Force' with my respect and admiration for vast swathes of contemporary Japanese culture? (See? This is what 'PC' culture has done to us: it's easy to intellectually paralyse yourself by worrying about this kind of paradox...in fact, you can tie yourself up in knots for hours over-analysing stuff like this: "Does not compute! DOES! NOT!
COMPUTE!
".) I'm comfortable, I guess, with these two sides to my psyche, but I can see that some people might be 'offended' by something that could be interpreted as Anti-Japanese...
I mean, I don't think for a minute that
Commando
is being published as an 'ironic' project, yet my personal interpretation/internal deconstruction of it
is
.
Therefore, I was v. pleased to hear about a recent Japanese 'war' film (forgive me if I've got the plot muddled...anyone care to give me a title to go with this?) where a squad of heroic Jap soldiers set out to thwart the dropping of the
third
atomic bomb. Bring it on: sounds pretty cool to me...