THE PATRON SAINT OF WASTERS
Finally,
as promised eons ago
,
o blasphemous disbelievers
: photographic evidence of the Crucifiction of
Dave the Head
, Patron Saint of Wasters and Scapegoats 'pon the sturdy Cross of St. Guildas Roman Catholic Primary School, Yeovil. And yes, we made him carry the cross all the way up Reckleford...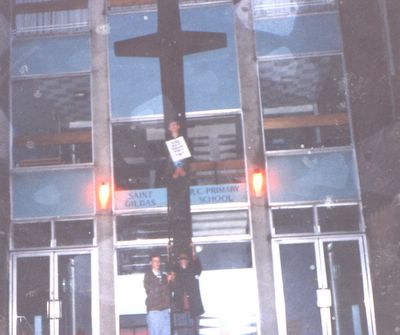 (Photo courtesy of A Man Like Alan Flint)
On the ground are:
Matty Male
, long time Selector fi
Burnin' Sounds
, Yeovil's own Reggae sound system & Cru (still going strong (after
how many years
?) w/ regular soundclashes up Brum and Wolf City way...) and The Head's younger (and distinctly unhedonistic) brother Rob.
Seconds after this photo was taken, Yeovil PD turned up but were easily swayed that this was some sort of Red Nose Nite stunt rather than a prelude to The Head's Ascension to Alcoholic Godhead/Induction as Holy Fool.
Can't remember what the sign around his neck said, though. Prob. something like: "Abandon hope all ye who enter here". (Or, more likely: "I am a twat")
Aww,
bless him.
Literally.