"HE'S BEHIND YOOOOOOOOOOUUU...!"
And as the UK lurches drunkenly from Chrismas towards the bizarre transexual bad-wig orgy known as Pantomine Season...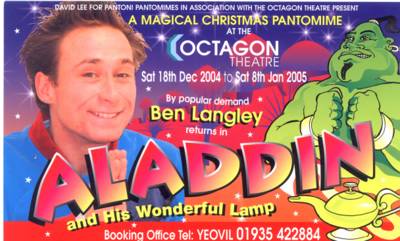 I was wondering: does America have a Christmas tradition as strange and archaic as Panto ("Oh, yes they
dooooo!
"), or is it just a particularly
British
aberration? Maybe an American reader could enlighten me...or is Pantomine so uniquely skewed towards the Twisted English Psyche that any attempt to explain the flier above would get completely lost in translation ("Oh, no it wouldn't!").
Still, the Yeovil Octogon (or the Johnson Hall as us
old
folk like to refer to it) has got a bit of a cheek saying that Ben Langley is back "by popular demand"...
In my book, back "by popular demand" (ie
me
helplessly salivating, hyerventilating & pissing my pants) would entail a return visit by the classic Brock/Turner/Lemmy (though sadly no Dave Anderson) line-up of
Hawkwind
that trod the JH boards back in '74, complete with (sadly, a fully-clad) Stacia, and with Liquid Len doing the lightshow. Lemmy tried to pick up a girl in my year at school: he sat down next to her bold as you like and put his arm around her, saying something like "Awright, darlin'? 'Ow's it goin'...?" She wriggled away from him and ran off, then told us all at school the next day that he "smelled
funn
y..."
Similarly, to me, back "by popular demand" would mean
Kraftwerk
in their besuited '75 incarnation road-testing "Autobahn" in Yeovil along with some unreleased tracks that would eventually appear on "Trans-Europe Express". What,
you think I'm kidding?
No, this is
not
a typo: Kraftwerk played Yeovil.
Buuuuut
...for the life of me, I can't actually remember why I didn't go as I went to pretty much every gig at The Johnson Hall, regardless of whether I liked the band or
had even heard of them
...but, yeah, I was def. there for Hawkwind and my life would never be the same again. Ken 'Shabby', my mullet'd Krautrock Mentor went to see Kraftwerk, but I didn't for some stupid reason known only to my therapist. Jeez: never realised that it would return to
haunt
me in later life. Didn't finally catch up with Ralf and Florian until 1990.
What was I thinking of...?
Another back "by popular demand" might even be:
Thin Lizzy
playing Yeovil to an audience of about 50 ("Thin
'oo?"
"Dunno, never 'eard ov
'im
...comedian, iz 'ee?") , just weeks before "Jailbreak"/"The Boys are back in Town" was released and their profile when stratospheric. Have to say, I was never a fan of Thin Lizzy, but they played their bollocks off to a
tiny
audience and had everyone one of those 50 people (myself included) up and dancing by the end.
And
Focus
: they could play The Octogon again "by popular demand" tomorrow if they liked...though, by coincidence, I saw the cover today of the DVD of their recent 'comeback' tour and it looks like ketboard-player/flautist Thijs Van Leer is suffering from a case of extreme
fatness
. But if they played "Sylvia" I'd forgive them pretty much anything.
And what about
Eddie and the Hot Rods
? They played the night before my maths A-Level. And, uh,
Alberto y los Trios Paranoias
...
Ah, fuck. Right now, I'd even settle for a return visit by arch-
proggers
Greenslade
...
Yeah, definitely gonna have to get
Shit & Shine
down to play.