SECOND CITY BLUES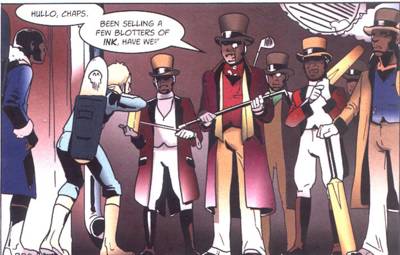 The bumper-sized Xmas issue of 2000AD arrived today (Nominally entitled Prog 2005), containing the first episode of "Second City Blues". A quick check of the credits revealed that it was drawn by Art-God
Warren Pleece
, and scripted by, er,
me
. Wrote the darnn thing a good year or so ago, so I'd almost forgotten I'd done it until it turned up. It's a future Sports story in the tradition of Harlem Heroes, Slaughterbowl, etc...and Warren, being the talented geezer that he is, has made my words a lot more interesting and human-shaped than they originally started out.
One point of interest: the phrase "Don't suppose you fancy a shag...?" has been replaced with a "Don't suppose you fancy hooking up later...?", though, strangely, the word "shit" seems to have been edited
in
. So it looks like "shags" are out and "shits" are in. (Sorry, but I'm horribly fascinated by this sort of stuff...) During the course of the series I was hoping to turn the phrase "You knobhead, Minger" into a sort of alt.catchphrase/running-joke, so it'll be interesting (to me, at least) to see if it survives the censor's knife. But, anyway,
Matt Smith
, the latest incarnation of
The Mighty Tharg
, is an all-round top bloke and a joy to work with, so def. no complaints from me on that score...
At some point, I'd like to post some of Warren's beautiful design-sketches once I've confirmed that he's cool with that. Hope you'll be joining me for the misadventures of Minger and the rest of the Second City Blues over the next 13 weeks or so...