MAVIS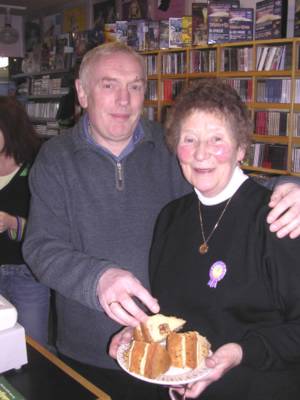 A belated happy birthday to the amazin' Mavis on her 77th (pictured here with Chris Lowe (no, not
that
Chris Lowe) of Acorn Records infamy). Mave is a legend in record retail...nah, sod it, she's a legend (full stop).
She used to work in
Radio House
, one of my favourite haunts back in the Seventies: a Golden Age vinyl paradise where Stockhausen LPs were stacked next to Bert Kampfert's "Swinging Safari". I still remember buying copies of Neu's "Neu '75" and The Mothers' "One Size Fits All" off her in an RH sale in '76-ish. I bought my first Disco 12" in Radio House and first heard Donna Summer's "I Feel Love" in one of their listening-booths (remember them?) while smoking a liquorice flavoured roll-up with me mullet-haired Krautrock mate Ken 'Shabby' Franklin. I think she might have once even chased off some part-time Punks when they dared to
urinate
in one of the booths. Ahhhh...them were the days.
Chris quite rightly poached her when Acorn Records shifted from their much-missed Alladin's Cave of a shop in Princes St. down to Glover's Walk. Thirty years on and she chases my 4yr-old around the shop, orders Grime twelves for me and casually tells Chris to 'fuck off' when he gets ideas above his station (which is most of the time).
When it comes to drinking whisky she could leave Craig Lea under the table and I wouldn't fancy Missy Elliott's chances in either an attitude or an innuendo throwdown. Oh, and somewhere along the way she accidentally helped form
Stackridge
. Mavis, you're a classy bird...
Long may you run.