THE FIFTH MR. FEAR
See? I didn't imagine it...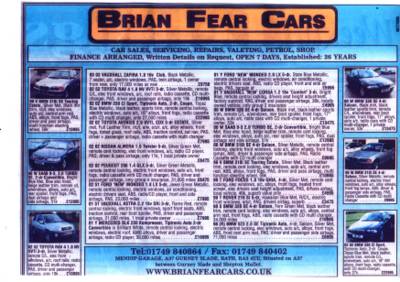 En route to last night's cracking Sunburned/Jackie-O gig (full report and hopfully some
analogue
pictures to follow...),
Farmer Glitch
and myself stopped on the Shepton Mallet road for supplies at
Brian Fear Cars
. I even bought some fags from
Mr. Fear
himself (wonder if they're laced with some chemical that makes you
really
scared?). He wasn't wearing his usual skull-mask, but was rocking a rather nice wolly-jumper, I thought.
Still, I couldn't resist taking one of his advertisting laminates. Wow, look: he's even got his own website.
Many thanks to
Mark
and
Man
for putting me up/putting up with me last night. Hadda great chat with Mark this morning about the relative
Beardy-ness
of different cities. Mark reported, somewhat surprisingly, that Manchester was more
beardy
than Bristol. He's probably right; Bristol certainly seems less
beardy
than when I lived there some years ago. I wonder why? So, c'mon, join in, readers: which cities or towns in the UK are the most/least
beardy
...regale us with yr beard-related tales from around the country. What's the State of The Nation's Beard?
Chris was working tonight, so I got the kids to bed and vegg'd out on the sofa with a Chinese takeaway (the delivery-guy had an unbelievable Cantonese West-Country accent that was completely all over the place) and caught up on some music DVDs:
Dredd Foole's
clattering electronic live Free-Folk freak-out in a bookshop aka "
Arm yourself with love and head for the hills
",
Van der Graf Generator's
frankly mind-blowing full-on fuzz-organ assault "
Live 1971
" and ('nuff said)
The Fall
live
at Camber Sands 2002 (filmed from the
side
of the stage and mainly starring the left-hand side of Jim Watts' haircut).
Standard.