Thursday, September 09, 2004
THE REVOLUTION WILL NOT BE REISSUED ON CD
Day Three of a Henry Cow jag: gotta Marxist monkey on my back.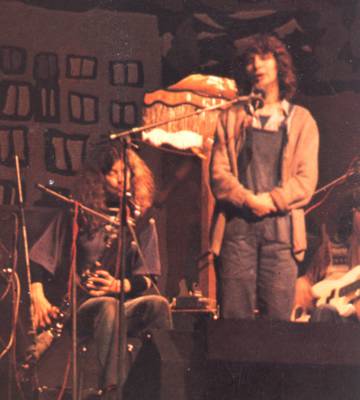 Lindsay and Dagmar
in full effect: Fresnes, France, 16th November 1975 (Factory Worker Chic not compulsory).
They were Dagmar-less when I saw 'em, functioning as a stripped-down fiery five-piece instrumental sweat-shop that cooked up some serious Abstract Dialectic Grooves. (Ooooooh, I'm listening to them right now on head-phones (well, hell, why not?) and goose-bumps just came up on my arms as John Greaves switched to pumping Fuzz-Bass and the rest of the band slowly began to
swell up
beneath him, until he was surrounded by swirling micro-vortices of sound; arid rather than ethereal...)
BTW: H. Cow are auto-exempt from recent Prog Critique. They're too Spooky; too European; too Baroque; too Chamber; too un/Stadium; too Dry; too Ego-less; too Grounded; too...
Forgot to mention: Fred Frith and drummer Chris Cutler also worked on The Residents'
Commercial Album
along with Andy Partridge (see below). Ha, Foolish mortals! See how this Blog is starting to mesh together into a Meta-Textual piece of Conceptual Continuality (Cue: Hideously fiendish cackle that usually punctuates the villain revealing his Master Plan, seconds prior to it fucking up completely.)
posted by I am not Kek-w @ 7:29 pm 0 Comments

SOME BOOKS I WROTE:
WERNECK-WRETCHMOND CD:
WYRD WORLD GARAGECASTS:
BLOG ARCHIVES:
SHIRTWEETS:
KID SHIRT, YEOVIL, TERMINAL 2010.