POWER TO ALL OUR FRIENDS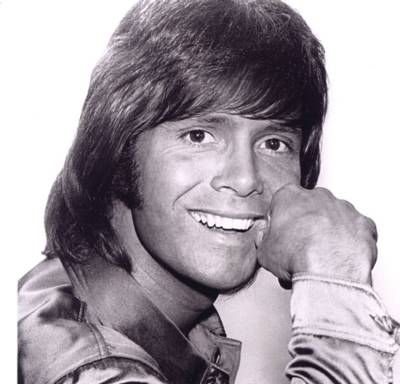 Harry Webb
reimagined as an (unintentional) Avatar of Anti-Kapital.
With his 1973 Tony Visconti-produced LP "Euro Vision" Webb reinvented himself and reinvigorated a failing career. The album featured a number of drum-heavy Euro-Glam stompers faintly reminiscent of Bierkeller Schlager Musik; incredibly catchy, but with a Para-Maoist revolutionary sub-text buried beneath the sugary lyrics. Chris Spedding's spiky guitar playing and Chris Thomas' multitracked Moog-lines combined with Webb's smooth (but subversive) singing-style unintentionally kickstarting a new musical genre. Within six months,
The Bolan-Eno Band
,
Sparx
and
Munich Machine
were refining this new Euro-Glam sound, using sparse, almost skeletal, metallic-sounding rhythm-sections to compliment squelchy ARP-synth sounds and punchy, rabble-rousing vocals. Bolan-Eno's breakout LP "
Tranx"
spawned 3 Top-Ten singles with its decadent drug and ambisexual references, including the notorious "
Zip-Gun Guru
" whose chorus "Give me white-line fever and give me head/Gotta sten-gun, baby, gonna wreck your bed" was designed to deliberately antagonise the BBC into banning it. Consequently, it went to No. 1 and stayed there for 6 weeks, becoming the unofficial theme-tune to a
Situationista
uprising that left half the West End of London in flames.
Meanwhile, Webb, who had been having management problems, left
Island Records
and signed to their biggest rivals
Virgyn
for a reputed six-figure sum
.
He recorded an Album ("AutoWerk") in Cologne with German Producer Conrad Plank and a handful of local musicians. It was panned by critics in the UK;
New Musical Sounds
described it as "experimental, self-indulgent rubbish (3/10)." The LP sold poorly in England, but did surpisingly well in Spain and Germany. The single
"Wired for Sound"
was edited and extended by Plank and eventually released in a new format: a 12" wide-grooved 45rpm single that could accomodate the robotic-sounding drums and bottom-heavy synthetic bass-line. The record was a surprise smash in discotheques across Europe, its heavily ironic lyrics lost on the International Jet-Set and Ski-Resort Crowd that it was lampooning.
Webb never returned to England. The radical commune-scene in Germany appealed to him on some basic level: he grew a beard and converted to an exotic form of Marxist-Buddhism. Royalties were donated to charity and he was arrested during the Anti-Kapital demonstrations that left Frankfurt paralysed for nearly a fortnight in the summer of '75. He joined a commune in a converted barn and was recording with a young musician called
Michael Rother
just prior to his tragic death late in September, 1976.
Webb's legacy lived on after him. Today, he is considered a pioneer of the
Motorik
and
Disco Brut
scenes and, without him, it's fair to say bands like
Mondrian
,
Latex
and
IBM Deluxe
would never have left the East Village. As the Seventies ground to an end, Webb's songs were being affectionately reconstructed in the UK as camp, synthetic kitsch by
Dandy
bands like
The Velvet Sect
, or petulently spat out at 150mph by amphetamine-fuelled
Urchin
groups such as
The Flowers of Romance
. It's not known whether radio listeners were more shocked by Arch-Dandy
Vic Goddard
playing "Goodbye, Sam" (one of Webb's early electronic-ballads) on Mike Read's
Pop Choice
show or his subsequent dry comment of "Ah, yes, he was the fucking bollocks, that chap." The station was swamped with complaints and Read had to later apologise on-air for what papers hysterically called "The Filth and the Fury." These days, it's hard to imgine what all the fuss was about.
Still, it's interesting to speculate where Webb's career might have taken him. The fact that he died relatively young has left us with just a myth and a handful of unfinished bootleg recordings. Even today, his songs still have a powerful political and social resonance that leave them open to continual reinterpretation. This is my personal favourite...it may have been reworked as a gorgeously melancholic hymn to a lost socialist paradise by Garage-Folk singer
Robert Wyatt
on his "Green Unpleasant Land" LP, but I'll always remember it as a wonderfully uplifting, pounding Euro-Glam stomper, a radical rally-to-arms...
"Power to all our friends
To the music that never ends
To the people we want to be
Baby, power to you and me
To the music that never ends
Baby, power to all our friends"