LET'S GET BUSY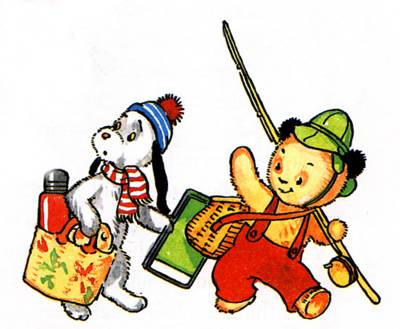 "It were
that
big, it were. Teeth like a fuckin' pirhana. I'm not kiddin', if I hadn'ta used me gaff-hook on the bugger it woulda taken me hand off clean at the wrist..."
Jeysus. You go away for a long weekend and the whole world turns upside-down:
Woebot's back at his
old site
...
Nick has
gone mp3
...
and, uh, over the weekend someone went and bought that DVD copy of
Nyphoid Barbarian in a Dinosaur Hell
from our corner shop that I'd had my eye on for ages. It was £3.99, which I thought was a bit steep, so I umm'd and ahh'd for a couple weeks and ended up missing the boat. Still, not to worry; if I wait a few months it'll eventually turn up at the garage for £1.99.
Hmm. So, someone up the road is into Troma, eh? And, no, I'm not getting paranoid; their copy of Monster in the Closet had disappeared too.
Have to nip this in the bud before it turns nasty. If I let something as disrespectful as this pass without retaliation then they'll smell weakness...they'll think they can take The Old Man down...if I'm not careful I could have a turf war on my hands. You gotta watch these punk-ass kids, give 'em an inch and they'll buy up all the 99p DVDs from the Yeovil branch of The Word. Before you know it, they'll lift all the Filipino Vampire films from MVC in Weymouth, then it'll be Spanish Zombie films from the Woolies Xmas Sale, and then they'll probably find that little junk-shop next to the fishing-tackle store in...
Agggh!
NO! It doesn't bear thinking about.
Well, I've got The Word covered for now: I've already cleaned out all the 'decent' cheapo expolitation-flicks starring Wings Hauser, Bo Hopkins, Henry Silva, Stella Stevens, Sybil Danning, etc, etc...but it doesn't pay to be complacent. That's why I've got someone on the
inside
, see? Can't tell you who, 'cause it gives me a competitive edge, but they give me the nod when a new consignment of
really crap
DVDs are imminent...
Trudy was my insider in the Virgin shop, and that's why you never got anything decent on the sales, fools. I hoovered up all the Blaxploitation, Women in Prision films, and Vipco Horror Reissues
at prices that you mortals can only imagine
(bwahahaha). Of course, I'm only telling you this now that they've shut up shop and she's left. Boy, that final closing-down sale was a beaut. By the end, they were paying
me
to take their Antonioni and Argento films...
So who bought those Troma films? Maybe it was one of our neighbours. Nah, it couldn't be...
Could it?