the ileum mask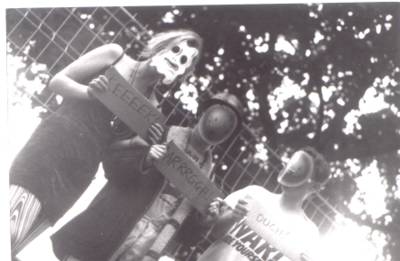 the ileum mask
were Yeovil's answer to...I...I don't know what they were Yeovil's answer to. They split up before they did
anything whatsoever
. That's considered a bit passe these days but I think they might have been the first to do it.
Please note:
(a) They spelled their name in
lower-case
long before the recent crop of Late-Nineties laptop/post-electronica bands, and, most importantly...
(b) The Post-Ironic use of a Frankie T-Shirt in >gasp<
1990
.
The signs they're holding (click to enlarge) read: "EEEEEEEK!", "ARRRGGH!" and "OUCH!" How ahead of their time is
that?