(2) UNION PACIFIC
I really dig the design of some of these old transcontinental beauties. High front-end with narrow slit-windows and a single central head-light: it looks like an old incarnation of Iron Man's mask. Retrofuturistic with a vague hint of Art Deco, maybe. Weirdly androgenous: it incorporates male
and
female design conceits. Straight lines
and
curves; strength
and
beauty.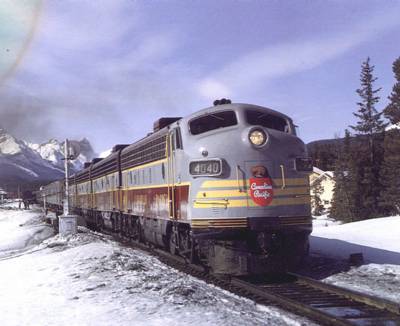 Bought this postcard in Vancouver in some weird shop in Gas Town; 6 years ago, but I can remember it like it was yesterday. The descriptive bumph on the b-side says: "The Canadian as it used to be, dressed in maroon and gray. In March 1964, Eastbound No. 2 crosses the Pipestone River after stopping at Lake Louise, Alberta..."
Lake Louise is just the weirdest,
bluest
blue-green colour you've ever seen. The lakes up in the Canadian Rockies are all coloured
wrong
: it's due to chemical sedimentation in the water. The air up there is crisp, untainted by urban befoulment. The colour of the water is so vivid, so unreal, that it looks like a special effect. It's a haunted, ancient landscape worthy of Lovecraft... humans were never meant to exist there; it's just too alien, too
big
...and the presence of trains (especially ones that look like these do) just adds to the overall sense of strangeness; it's as if they've somehow gone
back
in time, arriving in this landscape from a future that never actually happened.
Some auto-generated Graf Tags produced this evening from software that I deliberately modified to use phonetic 'molecules' that followed a Clark Ashton Smith (by way of Autechre) trope:
Phrost
Cyow
Ersantic
Trir
Droputu
Cejelu
Aloct
Bromiri
Wert
Uhew
Xyquoph
Imtre
Moeg
Slurtsese
Zathrune
Chexujo
Frero
Obichath
Croloo
Yistic
Quelpheke
Isasur
Yntzunos
Ploirso