INUL DARATISTA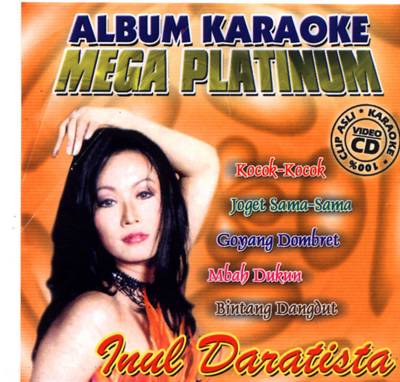 Inul
is the undisputed Queen of
Dangdut
(Indonesian Disco-Pop), and if there were any justice in the world (and there ain't) she would occupy that vast empty space in our hearts that was once filled by the first three
Madonna
singles. She's sold over 3 million CDs in Asia without even releasing an album; the sales are totally from pirate VCDs alone...
And this one boasts more scary costume changes than an entire Erasure tour: prepare to gasp and be thrilled as Inul jump-cuts between an emerald jump-suit, a sapphire jump-suit and, uh...a gold lame jump-suit. And that's
lame
with an acute 'e', not lame, as in the last Britney single. (Though I have to admit: the World-Weary-Britney-Bathtime-Suicide-Attempt Video is a corker; I can't wait for the copy-cat fan deaths, litigation, etc that will inevitably follow..)
My daughter, Kid Kid Shirt, is three years old and quite rightly hates all Pop Music, except
Dangdut
and
Rachel Stevens
. Yep, the girl got taste. She loves nothing better than putting up her pup-tent (pop-tent?) in the living room and dragging me inside it to watch Inul and her vast collection of glitter jump-suits through the window. The music is utterly fantastic: synthesised two-step Indo-beats mixed with various local instrumental flavas and 80's style Bon Jovi/Rose Tattoo whammy-bar guitar-solos. If you've never heard Dangdut, you've never lived.
It goes without saying that with the right management Inul could be huge in the States. But, fuck it, let's stretch our skinny, white imaginations a little here for once...in the same way that old snaggle-toothed hag
Madonna
(and her equally snaggle-toothed elfen helper
Bjork
...and, Christ, don't get me started on
Bjork
...) are so adept at exploiting emergent talent, wouldn't it just be the most mental (and futuristic) thing ever to hear Inul strutting her Indo-Pop stuff over beats by
Wiley
or
Andre-3000
or
Madlib
or some Austrian laptop nutter on
Mego
with
Jim O'Rourke
arranging the digital strings, etc... ? Nah, maybe not: just leave it alone, mate, for once, okay? And enjoy. It is what it is. And the world's a better place for it.
This VCD was kindly donated by Dara Donga Wilson, currently resident somewhere in the bowels of Central Java. Hope the rash clears up, Daz.