TAKING TIGER MOUNTAIN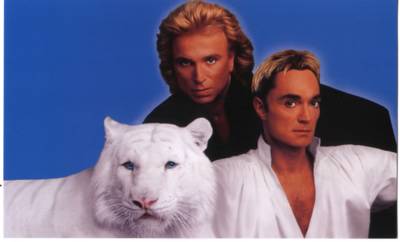 Seigfreid and Roy: "Masters of The Uncanny"
it says on the back of a postcard that Dom recently sent me from Las Vegas and I certainly believe that...the tiger looks stuffed or in a hypnotic trance. Maybe they pumped it full of ketamine.
Shit and Shine
are big fans. C. Louse, their guitarist told me: "We love their hair. We have so much in common with them." Does anyone have access to a post-mauling photograph? I would love to see one.